This game is a remake of the old Apple II game called Dung Beetles by Bob Bishop. For Apple aficionados it has the original La Cucuracha theme at the beginning of the game, and the "We gotcha!" when one of the beetles gets you. It also has the roaming magnifier which follows the player around the maze. This can be switched off in Easy mode, or switched on in Hard mode. There are two ways to play the game - Original and Modified.

Original - Hard plays exactly like the original game on the Apple II. Original - Easy is the original game without the magnifier. You get 8 beetles per level. Scoring remains the same for each level.

Modified - Hard starts off with two beetles on the first level with an additional two beetles on each subsequent level. Point scores are increased with each successive level. Modified - Easy is the same game without the magnifier.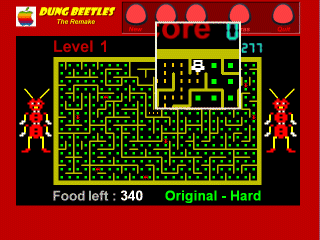 Full screen mode does not work under Win 8 and Win 10, so this has been replaced in version 2.0 by a user-specified variable window size.