This version of Apple Serpentine - The Remake includes an ORIGINAL game mode which plays as closely as possible to the original game of Serpentine as released on the Apple II. It also provides JUNIOR, EASY and HARD modes of play to suit your preferred playing style.

Here are some of the additional features provided by this version:

A fully integrated Level Organizer.

A fully integrated Level Designer.

MIDI music files to provide background music.

New ORIGINAL mode of play which follows as closely as possible the rules and scoring of the original 1982 Broderbund game.

All the original level maps by David Snider.

Comprehensive, completely integrated on-line Help.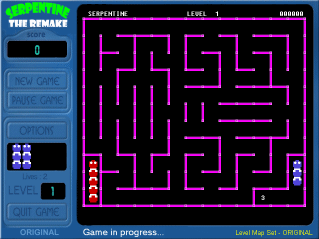 Full screen mode does not work under Win 8 and Win 10, so this has been replaced in version 3.0 by a user-specified variable window size.